Today we attended a party to celebrate the First Holy Communion of my daughter's friend. We got her a picture frame, but it looked lonely so my daughter picked out some fabric and I quickly made another fabric bucket. I also found a great quick pieced pattern to make a card.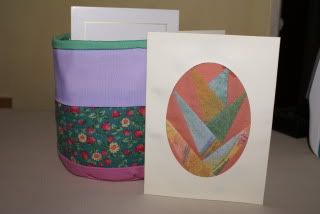 Thank you
Red Dawn
for the small quilt pattern.
Thank you
Elfie
for the cards to put finished cross stitch or quilt squares in!
Thanks again
Jodie from Ric Rac
for the fabric bucket pattern.