I think many crafters are also savers. Since we purchased our home almost 3 years ago I have been saving "recyclables"....tin cans, glass jars, butter tubs....now the collecting has paid off! With the new school room comes new areas that need things, like pencil holders, button holders, "catch-alls". Without spending any money I'm making some cute pieces for the room and wanted to share with you how to make them yourself!
Supplies:
Piece of fabric measure your can for size
Glue gun
Clean tin can
Beads, buttons, ric rac if you want to add decorations
Cut the material to fit your can exactly top to bottom and add an extra inch around so that the start and finish overlap, I didn't worry about folding the top and bottom edges over, if you have fray check you can use that, but I don't, so I'm not going to worry about the edges (I really think with the hot glue holding them, that they will be fine!). Start at the seam of the can using the glue gun and apply fabric as you go around. Glue seems to dry very quickly on cans, so make sure you press fabric to can firmly as you go. Once you have your material glued to your can all the way around you are done! If you like you can glue ric rac, beads, or buttons as decorations, but I'm pleased with my can as is.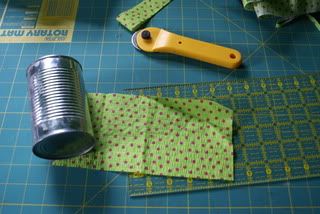 Lovin the chalkboard!
Emma drew her plans for an invention, I made a list for Bree and a note for Keith, and Bree added her "Danny Pino" part (she has a crush on Danny Pino who she saw one day when I was watching Cold Case).