Today was a very long day. I had jury duty from 7:30 this morning until 4:30 this afternoon. I go back for a minimum of two more days! On a positive note I was able to get some stitching time in. Can't share a picture yet because it is a gift for a friend's birthday this month and she does read my blog.
I'm very excited to have 7 people reading my blog! Thank you!!! I really like knowing that someone is interested! To celebrate my "followers" and St Patty's Day I'm going to offer a free pattern that I created a couple years ago.
St Patrick's Day Pattern
Picture time! For jury duty I made myself a "pocket". My skirt doesn't have any pockets and I didn't want to carry a purse, so this worked out great. It ties around my waist and stays there very well. I wore it all day today and I didn't even notice it was there and it stayed secure the entire day!
I made the covering flap large enough so that there was NO chance of anything falling out.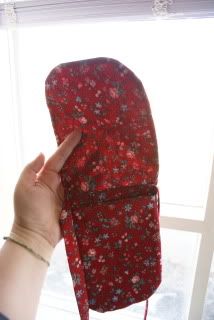 The inside is fully lined
Yesterday I decided to make a little bag to carry a cross stitch project with me. I figured if something happened to it, it wouldn't be the end of the world like losing my purse would be. I'm very pleased with how this turned out. I gave it an extra long handle because that is how I like to carry things. I think I'm going to make another one with shorter handles and use it as a lunch bag.
Before I added the handle, I made the bottom so it would stand up on it's own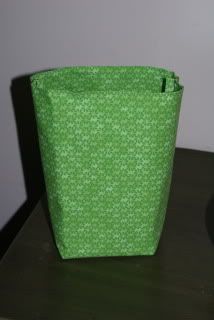 This bag is also fully lined
With the handle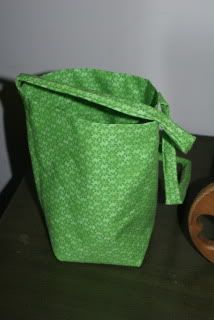 I have also started working on a business bag for my new job. It is out of the same beautiful green material.
Because of jury duty I'm not sure when that will be complete!
I'm also working on a business card keeper by Amy Butler
http://www.amybutlerdesign.com/products/free_patterns.php
Still working on getting my cross stitch program to work so I can start posting new patterns! I will get there some day!
Hope everyone has a wonderful Wednesday evening!
Hugs!